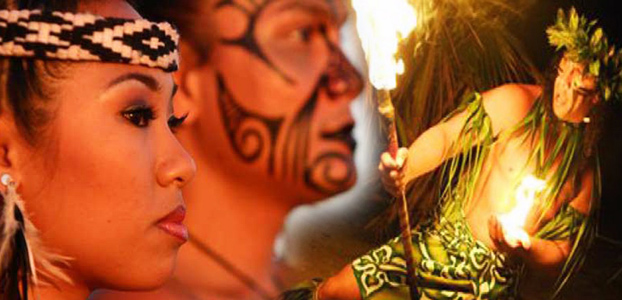 Germaine's Luau
Taking place on a secluded beach on Oahu's beautiful southwest shore, Germaine's Luau is considered one of Oahus most family-friendly luaus, offering a casual, laid-back atmosphere. Visiting Germaine's Luau is a great way to experience a piece of Hawaiian culture. Upon arrival, you'll be greeted with a Hawaiian lei. Then listen to the sound of the conch shell, which signals the start of the evening's festivities.
There will be a variety of cultural demonstrations, such as the Royal Court of Polynesia procession, which is followed by the imu ceremony. Watch how the kalua pua'a (roast pig) is removed from the imu, the underground oven, where it has been slowly roasted to perfection. The big luau feast features a variety of delicacies, from authentic Hawaiian dishes to continental favorites, so no one will leave hungry. After dinner, enjoy a spectacular Polynesian revue, showcasing music and dances from Hawaii, Tahiti, Samoa, Fiji and Aotearoa (New Zealand).
A vegetarian entrée option is available upon request.

Luau Highlights:
Backyard-style luau on Oahus southwest shore
All-you-care-to-eat dinner
Polynesian show with music and dances from Hawaii and other Polynesian islands (including the exciting Samoan fire-knife dance and Samoan slap dance)
***During covid measures all guests will be served at their tables for social distancing and to keep groups from being clustered together.

Luau Menu (offerings subject to be limited/changed during covid measures):
Kalua Pig (Roasted Pig)
Poi (Taro Potato)
Sweet Dinner Rolls
Lomilomi Salmon
Haupia (Coconut Pudding)
Sauteed Island Fish (w/ Sweet Chili Tarter Sauce)
White Rice
Fresh Pineapple
Vanilla Coconut Cake
Hawaiian Pulehu Chicken
Fresh Fruit Salad
Tossed Green Salad
Potato/Macaroni Salad
Beverages Menu (Offerings subject to change or be limited during covid measures):
Mai Tai
Standard Bar Drinks
Blue Hawaii
Premium Bar
Domestic & Import Beers

Original Luau Package: The Original Luau package includes non-reserved open seating, lei greeting, buffet dinner, and 1 Standard cocktail drink ticket for adults.

Plumeria Luau Package: The Plumeria Luau Package includes a lei greeting, buffet dinner with hostess table service to bring guests food, premier area seating, 3 beverage coupons, and each adult will receive their photo taken with a Polynesian greeter upon arrival and a souvenir photo booklet. (For social distancing the Plumeria section has been extended into the front area of the Hibiscus section that is currently unavailable due to reduced luau capacity for covid measures.)
Where and When:TRANSPORTATION

If you provided your mobile phone number, please turn it on around 3pm the day of the luau and Germaine's will be advising you of the vehicle number & driver's name. Please arrive 10 minutes prior to departure. There are 6 central locations for pick up, you will be assigned the closest to you. When checking in at the bus, the driver will do a temperature cheek and request you fill out a covid-19 questionnaire.

DRIVING

Guest parking lot opens at 5:15 pm. Gates open at 5:30 pm.
If you require round trip Waikiki Transportation, but did not add it, please call 866-482-9775 at least 24 hours before your scheduled luau to add for an additional cost.
Luau begins at 6:00 pm and ends at 8:45 pm.
Physical location: 91-119 Olai St., Kapolei, HI 96707 View Map

Driving Directions from Waikiki: Take the H-1 Freeway West. Follow signs to Waianae. Leave Freeway on Exit #1 (Campbell Industrial Park), which loops over the freeway and proceed towards ocean on Kalaeloa Blvd. Follow to the end and take a right on Olai Street. Estimated drive time to Germaine's Luau from Waikiki is 1 hour.


Requirements:
Following Hawaii's Mandate, Germaines will require either a vaccination card showing proof of full vaccination or a negative test within 48 hours of your luau date. Children under age 12 are exempt to this mandate.
Restrictions:Following Hawaii's Mandate, Germaines will require either a vaccination card showing proof of full vaccination or a negative test within 48 hours of your luau date. Children under age 12 are exempt to this mandate.

COVID Precautions:
Group seating is limited to no more than 10 people seated together at a table. Larger groups will be socially distanced with nearby seating.
Masks must be worn at all times except when eating or drinking. Guests under 2 or those with a medical condition that prohibits them from wearing a mask may be exempt.
Guests will be table-served the popular buffet menu, with additional food portions served upon request.
Guests who present with any of the following may be denied entry and directed to return to where they are staying or getting medical assistance: fever, chills, a new cough, shortness of breath, difficulty breathing, a new sore throat, new muscle aches, new headache, new loss of smell or taste or anyone who has had close contact with someone who has tested positive in the last 72 hours.
Operation Days:
Monday, Tuesday, Wednesday, Thursday, Saturday & Sunday
Duration:
Approximately 3.5 hours