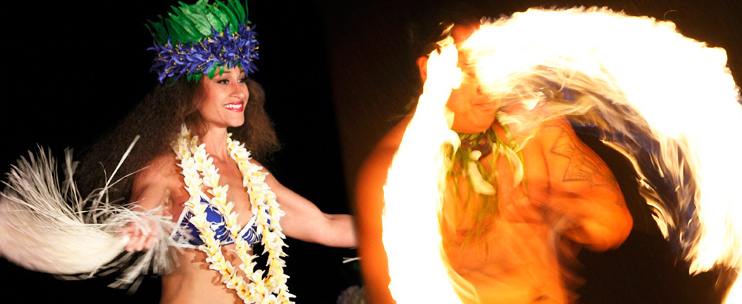 Aha'aina - Royal Hawaiian Luau
Taking place in the heart of Waikiki at the iconic Pink Palace (The Royal Hawaiian), the Aha'aina Luau skillfully depicts the ancient Hawaiian feast called aha'aina. In the old Hawaii, aha'aina was a royal feast held to celebrate and honor foreign dignitaries, royalty, powerful chieftains, or guests at royal weddings, birthdays, or christenings. The natives prepared food for three days for the anticipated arrival of the special guests. It was customary to greet each guest with a kukui nut or flower lei.

Join us for a true experience of "Aloha" and a tribute to the legendary playground of Hawaiian royalty at the Royal Hawaiian Hotel. Set on the Ocean Lawn right on Waikiki Beach, the Aha'aina Luau grounds overlook Diamond Head and the sunset over the ocean.

The evening festivities include cultural presentations, such as kapa making (a cloth made of pounded bark), poi pounding (poi is made by cooking and pounding the taro root) and na lawai'a (tending of fishing tools). A storyteller will share interesting cultural facts, such as why Hawaiians give a flower or shell lei to their guests, how the Polynesians crossed the Pacific, and how ancient Hawaiians harvested taro to make poi.

Later, all guests will be called to the luau feast with the sounding of the pu (conch shell). Another highlight of the evening is the spectacular performance, featuring hula dances as well as music from Hawaii and other Polynesian islands.
Full Luau (Premium or Standing Seating) includes 1 welcome drink and 2 drinks during the luau.
Premium Seating - Seating is 1st row of oceanfront tables, closest to the stage.
Cocktail Seating
- Includes the show and 2 beverages (no food). Seating at 7 pm.
Luau Highlights:
Held on the Ocean Lawn at the iconic Pink Palace of Waikiki the Royal Hawaiian Hotel
Cultural presentations and hands-on activities
Authentic Hawaiian luau buffet dinner
Spectacular Polynesian performance
Aha'aina Luau Menu

Poi and Poke Station:
Poi with Fresh Salted Salmon, Ho Farm Tomatoes and Maui Onion Ahi, Shrimp, Tako, Hamakua Tomato and Mushroom Poke on Ice Bar
Island Fruit Station:
Sliced Pineapple, Watermelon, Cantaloupe, Honeydew, Kula Strawberries, Mojito Style Mango
Island Salads Station:
Island Coleslaw, JA Farms Caesar Salad with Portuguese Bread Croutons, White Anchovies and Pipikaula, Ho Farms Tomato and Cucumber Salad, JA Farms Baby Greens with Edamame, Ho Farms Tomatoes and Watermelon Radish
Hui Hui Grill Action Station:
Local Island Chicken, Garlic Fried Rice, Wok Fried Choi Sum with Crispy Shallots, Roasted Vegetable Curry
Kiawe Wood BBQ Station:
Korean BBQ Kalbi Ribs, Chinese Steamed Mongchong with Ginger and Scallion
Real Above-Ground Kalua Pig Live Carving Station
 Dessert Station:
Royal Hawaiian Bread Pudding, Pink Haupia Cake, Halo-Halo Flan Waialua Estate Chocholate-Coffee Tiramisu
Where and When:Check-in begins at 5:00 pm (Cocktail Seating checks in/begins seating at 7:00 pm) at the Royal Hawaiian, 2259 Kalakaua Avenue, Honolulu, HI 96815 View Map
Requirements:
Restrictions:
There is a 72 hour cancellation policy for this activity. Within 72 hours of your luau date there is no cancellations or refunds.
Operation Days:
Monday, Thursday & Saturday
Duration:
2.5 hours